Legacy Maverick playable cards from Modern Horizons
The Legacy format has a huge bar when it comes to judging the quality of a card, with only 1 or 2 cards from a set usually breaking into the powerful eternal format. However Modern Horizons has broken the mould with a ton of new cards looking to add some muscle to a range of archetypes within the format. Maverick players are pretty excited about some of the new creatures and spells that have been spoiled and are still yet to be properly tested. I reached out to some Maverick all-stars in Dan Neeley, Ross Merriam, Julian Knab, Pleasant Kenobi, Olle Råde and Maverick Discord heavyweights Thalia [Miranda Keith], Thaya and StrassDaddy to understand their thoughts on the new printings and what they add to Legacy Maverick.
1. Collector Ouphe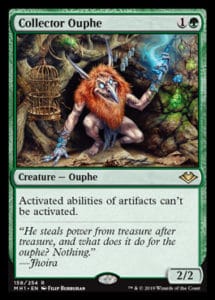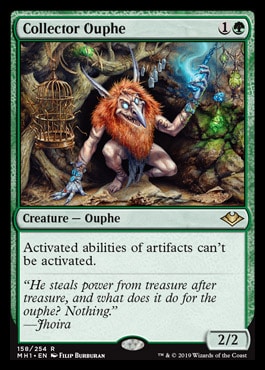 Pleasant Kenobi
"Collector Ouphe is one of the best "hate bears" we have ever seen. Not only is it a hate effect on one of the most problematic card types in Magic, but it plays well with cards like Green Sun's Zenith. With the rise of Karn, the Great Collector, I can see this card making waves across every single format it is available in."
Thaya
"Roughly analogous to Gaddock Teeg in that it is a lights-out effect against some decks, and randomly does well in other non-targeted matchups. Right now it isn't worth playing alongside the SFM package, but if we head toward a Karn, the Great Creator-heavy meta where Null Rod is just a card we want, I'll be playing it."
Ross Merriam
"Collector Ouphe seems great as a Green Sun's Zenith target at least."
StrassDaddy
"Collector Ouphe is great, however, it is awkward in this deck. Enlightened Tutor builds of Maverick (pre-Thalia, Guardian of Thraben and some Punishing Maverick builds like Fabian Görzgen's decks) played Null Rod or Stony Silence. Would you play it against Death & Taxes if it's in your 75? Probably. If you run four Stoneforge Mystic? No. But if you run 2 or less, probably. If you run only 2 Umezawa's Jitte in your deck and zero Stoneforge Mystic you probably play it against Taxes. If you run zero Jitte (kinda unheard of) then definitely.
When would you Green Sun's Zenith for it over Teeg against Lion's Eye Diamond and Lotus Petal? Against LED decks, and Lotus Petal decks, you may not opt to do this. Maybe if you have another Green Sun's Zenith in hand and Thalia, Guardian of Thraben out already, but that is very corner case. Against certain MUD decks it's a great target and probably better than Knight of Autumn.
Would you play this against Mox Diamond decks? Probably, but it's all a matter of what you have to take out vs. what you have to bring in. It is not an ace here. Overall, the card is worth a slot in the right meta game when your Stoneforge Mystic package is light or nonexistent."
Miranda Keith
Obviously a very strong sideboard card against both D&T, Storm, and various Karn decks. The fact that Maverick typically plays equipment (and that equipment is important in a lot of the same matchups you'd want Ouphe in) makes it a bit awkward, though I would likely still play it despite the bit of anti-synergy. It gets much better in equipment-less builds, which I think have a shot at being pretty great given other cards on this list.
itsJulian
"While I'm super excited for this card in Vintage, I only see it as a random addition to potential Maverick sideboards. Turning off your own equipment is a real cost… maybe it's time for the inevitable return of Kor Outfitter? 😉 The upside is that against most decks you would want this against, you are likely siding out or at least not relying on your equipment very much.
Versus other Stoneblade decks though, this card is really awkward and I don't see it making the cut in GWB Maverick, which has access to Abrupt Decay. Against ANT, it's worse than Gaddock Teeg; however it's much better than Teeg vs. Bomberman (but unfortunately that deck isn't seeing a lot of play right now because it's ridiculously expensive on MTGO). Against 12-Post, I much more prefer having Teeg. So while the card certainly is good, I don't see it adding much to Maverick specifically."
Dan Neeley
"I think this is a perfect card to fit in Maverick as a 1-of for the GSZ package if the Karn and Bomberman decks stay popular. Also great vs. other popular strategies including Death and Taxes and Storm."
Conclusions: Collector Ouphe looks like a great silver bullet option in Maverick's 75. In a meta of heavy artifact decks, the downside of turning off your SFM package (if you play it) is outweighed by the upsides of the creatures null-rod effect. This will see play in Legacy due to its tutorabiltiy with Green Sun's Zenith and ability to literally turn off an opponents gameplan like Gaddock Teeg can.
2. Force of Vigor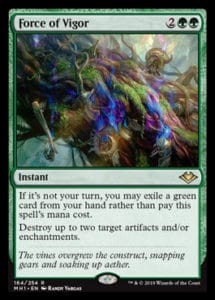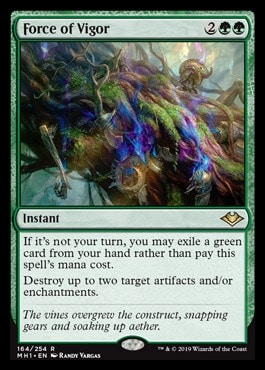 Pleasant Kenobi
"A solid sideboard card – unsure if it is strictly better than simply having a Natural State or Naturalise for the most part. Degenerate decks that need turn 1-2 answers and play 18+ other green cards want this for sure."
Thaya
"Powerful enough to see play, a good potential 2 for1 vs. Death and Taxes (hit an Aether Vial and weapon mid-combat is very powerful), and a fine sideboard card vs. Stompy. That all said, I think it's worse than existing creature-based naturalises, since we just want bodies in those matchups. It doesn't answer Mycosynth Lattice after it comes down either."
StrassDaddy
"Prob not worth it. This is a card for some weird deck or weird meta. Neat card but wont be play in Maverick unless the meta really changes to lots of MUD and Enchantress."
Miranda Keith
"Again, strong sideboard option. Most notably it can break us out from under a resolved Blood Moon regardless of what lands we have in play. I don't think I would play this in Abzan unless I expected a lot of Moon Stompy, since the artifact removal options that deck has access to (Trophy, Decay, etc.) are way more flexible. It probably makes it into most GW sideboards, though."
Dan Neeley
"I could see this as a sideboard option that could fit in loam or Maverick if Blood Moon decks become popular again."
Ross Merriam
"Force of Vigor is solid if you want that effect."
Conclusion: 2 for 1'ing yourself is never a great feeling. Maverick already has some great ways to deal with artifacts and enchantments in creatures like Qasali Pridemage and Knight of Autumn or spells like Abrupt Decay that I cannot see the need for this in Maverick other than in a meta with multiple Blood Moon decks.
3. Giver of Runes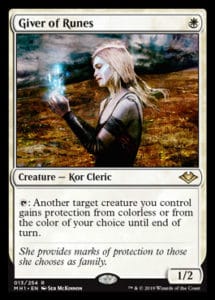 Pleasant Kenobi
"Giver of Runes is a card that people are writing off too much as "not as good as Mother of Runes." It protects Marit Leige from Karakas; this card might be the real deal in Maverick."
Thaya
"Mom is almost strictly better than StepMom in legacy – no actual impact here."
StrassDaddy
"Not worth it. Cool card. Mother of Runes is way better, and it's probably worse than Safekeeper or even Spellskite."
Ross Merriam
"Giver seems mediocre outside of a meta where T2 Thalia is bonkers."
Miranda Keith
"Pretty sure this card is just unplayable. The only matchup I'd really want it over Mom is Eldrazi specifically, and we're already pretty good against those decks by virtue of just slamming a huge Knight, of the Reliquary. I could potentially see playing a split of this and Mom since it's better than the second Mom, but overall I'm not a fan. Mother of Runes is good because she protects herself, and in the matchups where the second point of toughness is relevant, the ability to protect from spot-removal on itself is more relevant. I think this card may see a bit of play in D&T, but I don't think any version of Maverick wants to touch it."
Dan Neeley
"I don't think this card is Legacy playable with Mother of Runes in the format. The advantage is getting a 2 for 1 with Mother."
Conclusions: Sadly she just isn't Mother of Runes. If Maverick was really wanting a 5th Mum effect then Sylvan Safekeeper would be a huge amount of more competitive play (especially with the printing of Ramunap Excavator). She's going to hopefully do some work to help boost Modern D&T archetypes but she isn't really needed in Legacy Maverick.
4. Plague Engineer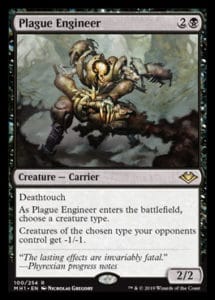 Pleasant Kenobi
"Plague Engineer is a tutorable, vial-able Engineered Plague that can carry a sword but is more vulnerable to removal – I love this pay off in design. Card will be great in multiple decks, from Modern D&T right through to potential play in Legacy Grixis. Card is gas."
Thaya
"This is going to be a powerhouse, but I think it's better in a Recruiter of the Guard & Aether Vial shell than Green Sun's Zenith shell. For most builds, we'll probably still be playing Zealous Persecution's, unless you have a D&T-heavy meta and want an extra edge. Definitely worth getting a copy or two for the sideboard."
StrassDaddy
"I am not an abzan player but I expect this to get play over Zealous Persecution. The static ability and having legs makes it better as a proactive card to play where Zealous Persecution is a timing card and holding up mana is not maverick's style of play. This card is awesome!"
Miranda Keith
"I don't like this. If you're playing black in Maverick, you already have access to Zealous Persecution, which is an extremely flexible hate card. Plague Engineer has upside in that it stops future things from hitting the board, but because most of the decks with x/1s that we care about have them across multiple creature types, that's not super relevant. It's obviously great against Elves, but I think it's worse than Persecution in literally every other matchup. In particular it can't kill both Young Pyromancer and elemental tokens, and it cant clear a full D&T board. Overall not a fan, and I expect this to be a card people try out for a bit before realising it sucks."
Ross Merriam
"Plague Engineer isn't appreciably better than a bunch of other black cards."
itsJulian
"Solid card for dealing with issues GWB Maverick can face; bonus points for being a potential game-breaker in the mirror too. It's like a main-deck-able version of Zealous Persecution. Would likely be unplayable at 1BB, but in its current form it seems to be okay. It will likely be just a Grey Ogre against 1/3 of the field, but even just some minor value can be okay with it. Getting this down early naming Human is brutal against most Delver decks if you can protect it with Mother of Runes. Overall, we'll keep seeing this card every now and then because it's absolutely great at what it does – I'm just not sure if what it does do is in high enough demand right now."
Dan Neeley
"I think this could be a very good sideboard card in other strategies but I believe zealous is better for GWB Maverick. Also think Golgari Charm is the better option in 4 Colour Loam."
Conclusions: A well known ability being printed on a creature is always hyped when spoiled especially one as game changing as Engineered Plague. Zealous Persecution is a fine board wipe and right now I feel -1/-1 does more than enough for what you need from a Maverick standpoint. Until more testing comes out with this card I don't see it seeing play in Maverick unless it's Zealous Persecution #3.
5. Wrenn and Six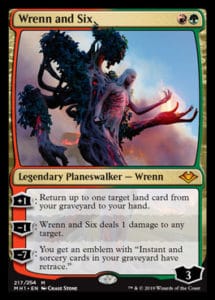 Pleasant Kenobi
"I feel Wrenn and Six is getting more hype than it deserves. It is undoubtedly powerful off fast mana but I just don't think enough decks want it. Legacy Lands cutting Sylvan Library or Life from the Loam seems wrong – might see some play but I just don't think it is better than other options in Legacy. In Modern, it feels a little slow and not very proactive."
Thaya
"This card is scary good, but Maverick is probably the deck that gets the least from it – Lands and 4C Loam will abuse this a bit harder. We'll mostly use it as a card advantage engine similar to Ramunap Excavator, with added upside. I'm fairly sure a red build that cuts Punishing Fire for better tempo removal (Lightning Bolt) and playing like the GW or GWB decks could be very good."
StrassDaddy
"I will be playing this in the weeks to come. This card is boss and will see its way into the format. It's probably best paired with Mox Diamond, but it may fit in Punishing Maverick. The ultimate is a win con vs. many decks. In Punishing Maverick, I think 2 is the right number for a test. I will try it with a land-heavy build with Maze of Ith, Dark Depths, Thespian's Stage and go from there. Ultimately, I don't think it will make the cut for Punishing, but I could be wrong. Its definitely going to be exploited best with Mox decks."
Ross Merriam
"Wrenn and Six looks very powerful in mirrors but in general I'm wary of splashing."
Miranda Keith
"I think this card is just completely absurd. While it's probably better in 4C Loam, it's still great here and a very good reason to splash red as opposed to another colour. The plus is obviously good both for recurring Wastelands (or cycling lands/canopies),and helping make land drops. It also gets value immediately even if you've already played a land this turn, which makes it a lot more interesting than Ramunap Excavator (which sort of costs 4 mana since you typically want to play it out with a land drop still available).
On top of all that, 1 damage is a pretty significant amount in legacy. It kills everything we care about out of D&T, Delver, Pyromancer, Dorks, etc. Maverick doesn't really care about the ultimate at all (being able to recur a Swords to Plowshares is nice but not really game-ending). Recurring lands is obviously good against a lot of decks, but I think it's worth mentioning one matchup specifically: Miracles is usually an utterly abysmal matchup for us, but I think Wrenn and Six changes the matchup significantly. Normally the "Ghost Quarter them off of white" dream is really difficult to actually accomplish since it requires a Ramunap Excavator to stick for five or six turns in order to work. Wrenn and Six is much harder to answer than Excavator is and it hits the board earlier, which makes taking them entirely off white something that's actually reasonable to achieve in that matchup.
I really don't like Punishing Maverick – I tend to regard it as just a worse version of 4C Loam. But I'm really interested to try Wrenn and Six in a straight up Naya build of Maverick that's not trying to play Punishing Fire and is instead just built like any other splash build would be. It takes a lot to make me willing to try putting down my Thoughtseizes and ZPs and Assassin's Trophy's, but I think Wrenn and Six is potentially one of the most powerful cards printed for legacy in years and is possibly worth losing access to those sideboard options for."
itsJulian
"Last time I played Punishing Maverick was quite a while ago, but I can definitely see this card being tried there. It perfectly harmonises with Maverick's aggressive mana-denial plan, even though in the early game constantly rebuying Wastelands can be a bit awkward in a deck as mana-hungry as Punishing Maverick. I could see combining it with an Exploration-type effect like Azusa, Lost but Seeking, but I'm sure that won't be a good take on the deck. The problem probably is that while this card is one of the most exciting additions to Legacy in a long while, it really has Mox Diamond written all over it and will always be a better card in 4C Loam. People will surely try it in Punishing Maverick and it will likely be okay since it also doesn't compete with Thalia for the 2 drop tempo-wise, but… you know when you drink Fanta and it's all cool – but you know you could be drinking Sprite instead?"
Dan Neeley
"I'm most excited about this card! I think it fits well in all the Loam decks. Also it could fit well in Punishing Maverick, but I don't know the deck well enough to know numbers and what to cut."
Conclusions: Wrenn & Six seems like its home is in 4C Loam or RUG Delver. I'd love to see testing with Punishing Maverick but I believe it's not going to end up as a Maverick choice.
Honourable Mentions:
1. Ranger-Captain of Eos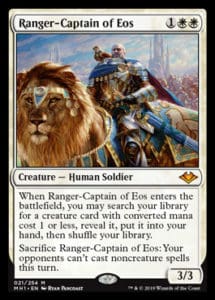 Pleasant Kenobi
"I wouldn't sleep on Echo of Eons or Ranger-Captain of Eos – the former has easily the highest ceiling for broken nonsense, especially with High Tide or other Storm decks in Legacy. The captain is a human with a solid body that hates on combo/wraths and can tutor for utility or extra bodies. Seems so solid for 3 mana"
Thaya
"Ranger-Captain of Eos: Legacy has better options already. Pass."
Miranda Keith
"Ranger-Captain of Eos is neat and maybe makes it into D&T, but we have so many better ways to tutor for creatures and we don't really want to fetch 1 drops. I'm really into the idea of playing this in some kind of GW vial deck where it can fetch Sylvan Safekeeper, and while that's probably a bad deck, it sounds like the kind of thing I'd try."
itsJulian
"I really like how this card is all around solid. If anything, this one's even more reason to play Birds of Paradise, which I think will give you the best value as the Flying is relevant surprisingly often. (It's kinda like poor man's Scryb Ranger). The activated ability is something Maverick desperately needs against both Storm as well as an un-counterable foil to Terminus. If your opponent really wants to Terminus you, he's gonna have to throw a Swords to Plowshares into the mix as well, at which point your opponent already starts bleeding. Of course, you don't really beat Miracles with card advantage with Maverick, even if you can generate it. But I can imagine this being decent at finding that mid-game sweet spot where Miracles isn't all set up yet, while you disrupt the hell out of them and gain a temporary advantage you try to then ride to victory. Oh, and it's also okay vs. Elves, but you'll be put into awkward spots with it since you have to predict their move.
The downside is, of course, the mana-cost. I can only imagine running this in GW Maverick since overall, the card isn't super great and WW is significantly harder to produce than GG.
Overall, I'm not sure it's better than Aven Mindcensor, which harmonises a lot better with the Maverick game-plan, but Captain is certainly a card I will tell myself I'll try at some point, only to never actually get to it."
Dan Neeley
"This card is close but I think the double white and 3 CMCs will hold it back from seeing much legacy play. They need to make more of these creatures green!"
Conclusions: Ranger has some cute interactions but the 3CMC slot in Maverick is just so competitive that I don't see it making the cut. Without other targets than Mother of Runes and mana dorks its ability is lacking to say the least.
2. Hexdrinker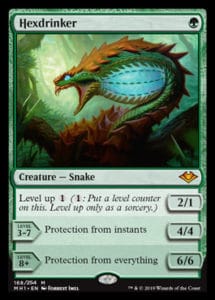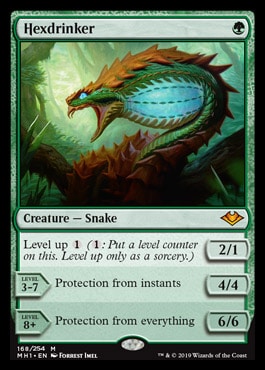 Thaya
"I'm sceptical, but this could be a pretty powerful "four drop" we can GSZ for. I probably won't test it, but I wouldn't be surprised if someone puts up results with this card in a deck (apparently Nic Fit players are pumped about it)."
Miranda Keith
"Hexdrinker is cute but probably not good enough. I fully expect to try it out because I love putting bad green sun targets in my deck, but I don't expect it to actually be good enough. If you could level up at instant speed I'd be a lot more interested since virtually all removal in legacy is instant speed, but the fact that they can just kill it in response to the third level-up activation is pretty sad."
itsJulian
"Hexdrinker has the potential to be super underestimated (but I doubt it… I guess that's how it works with underestimated cards). Depending on how the format will evolve, this could have a place in Maverick as a board-stale breaker."
Dan Neeley
"This card is interesting. Not sure it fits in Maverick – but possibly in Elves?"
Conclusions: The sorcery speed ability pump is rough as it gives your opponent an easy route to exiling / destroying Hexdrinker in response. Hexdrinker is sadly just not that great. If you're after this sort of creature – Thrun, the Last Troll is your best choice.
3. Serra the Benevolent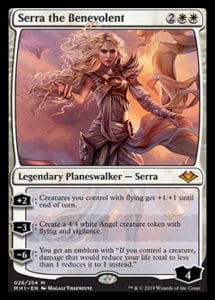 Thaya
"I honestly haven't processed this card in the context of Maverick or Legacy in general. The Worship Emblem is definitely powerful for our deck, but I am sceptical we'll be able to get it in matchups where it's good. A Serra Angel for 4 and then leaving behind a walker is fine. This should probably be tested in the walker sideboard slot, but I'm down on the value of planeswalkers from the board as threats at the moment (CA walkers like Vivien, Champion of the Wilds or Wrenn and Six are good because they are main board options)."
Miranda Keith
"Serra is a really cool card that I can't wait to play in cube, but I don't think she has a place in Legacy. I don't love planeswalkers much in Maverick to begin with, and I think there are better options anyway. That said, Serra definitely has the best fail case of the white planeswalkers, since leaving a Serra Angel around is much better than leaving a 2/2 or a 1/1 if they have a kill spell for your walker, and that could be worth something – so you never know."
itsJulian
"Serra, the Benevolent is a bit weak. The ultimate is one of those things that can help Maverick with problematic matchups like Elves or Burn, but the way I play Maverick, I don't think you should concern yourself too much with decks outside the ~5 most played decks."
Dan Neeley
"This card's plus 1 may hold it back in Maverick but making a 4/4 flying vigilance angel is pretty great. Also the ultimate would be sweet against a deck like Elves"
Conclusions: Maverick traditionally doesn't have the ability to defend air space outside of Birds of Paradise and Scryb Ranger. Serra does give Maverick that edge, however there are arguably more powerful Planeswalkers that haven't even cut it for the 75 in the past. Cool? Hell yeah – But Gideon, Ally of Zendikar and Garruk Relentless are just going to be your better competitive play options if you're wanting a sideboard Planeswalker.
4. Sword of Sinew and Steel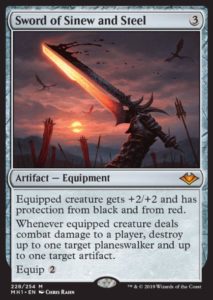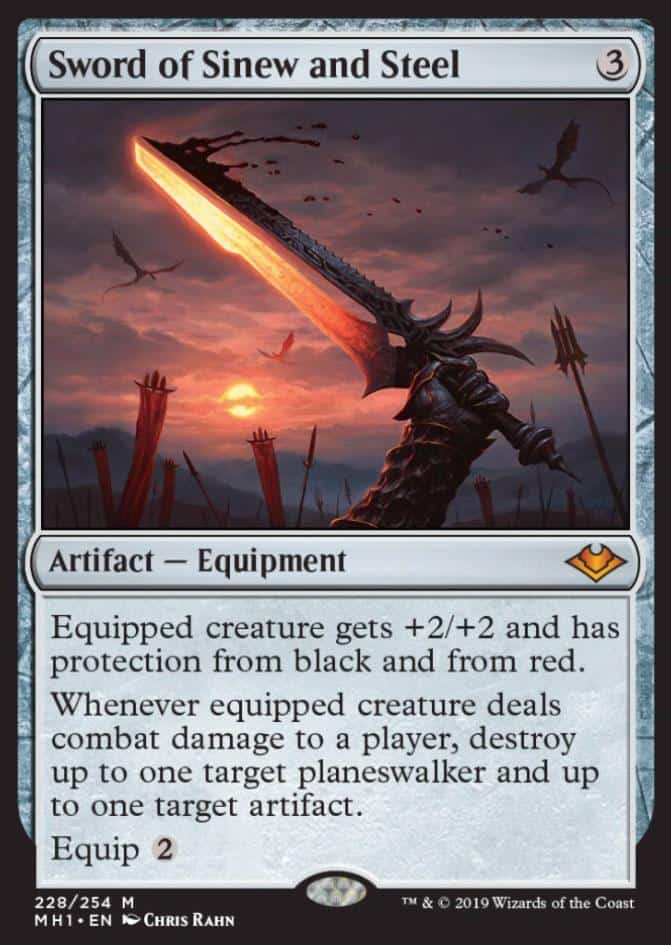 Thaya
"Impressive card, but the biggest thing in a sword beyond what we're playing already is the colours. Red and Black aren't nearly as relevant right now as any sword with white, but once UWx stops being the Boogeyman and we go back to UBr being the premiere blue decks, this will be the 3rd best equipment and may receive a mainboard slot."
Miranda Keith
"Sinew and Steel is devastatingly effective against various sol land decks, and having an equipment to answer other equipment is neat, though Manriki-Gusari is better at that."
Dan Neeley
"Neat card but colour combination isn't there, and killing a planeswalker/artifact isn't enough to make it playable."
Conclusions: If you're attacking and connecting with an equipment piece you're most likely in a great position. The added bonuses of this card are overkill and I'd consider them as 'win-more'. The protection colour choices are great when your meta is filled with Lightning Bolt and Fatal Push and you're wanting to fight through Young Pyromancer tokens, Baleful Strix's and Gurmags.
5. Sword of Truth and Justice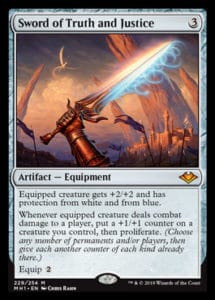 Thaya
"I think a lot of people are sleeping on the effect, and the colours are definitely the best option for a 3rd weapon right now. I'm not playing Sword of Light and Shadow right now, but if I were, I'd be replacing it with this ASAP."
Aside on colour combos: I haven't been playing GW, but I'm definitely on board with it in concept for MODO. I think for most paper metas, the black splash for Zealous Persecution is very powerful, and Thoughtseize is a card that gives you outs to random nonsense. Punishing is just a little too clunky for me, but I haven't had much experience personally. Not playing Thalia in the main seems like a cardinal sin of Maverick though. 4c for Leo is mostly a meme – I've been playing Bahra's 4c Vivien, Champion of the Wilds pile for testing recently, and the mana is too clunky to actually work vs. anyone who can pressure our mana. Leovold, Emissary of Trest also seems like it's not nearly as good as it has been in the past? So I don't think the instability is worth the potential power increase. Moving forward, the top choice for colour combo might end up GWR for Wrenn and Six just because of how powerful that card is. Otherwise, GW or GWB will continue to hold the top spot, depending on meta."
Miranda Keith
Truth and Justice is another option for the pro-white sword slot. It's clearly the best pro-w sword against Stoneblade, and I think it's likely the best one versus D&T as well since growing our creatures is relevant there and proliferating their Aether Vial is a surprisingly strong thing to do. I think it's good against Miracles, though the best pro-white equipment against Miracles, in my opinion, is Sword of War and Peace just because of how amazingly fast of a clock it is."
itsJulian
"The protection is why we are even speaking about this sword. The ability is super disappointing but at least it helps with putting some good pressure on Miracles without overextending. The problem is that if you don't overextend, you will lose an insane amount of tempo if they Swords to Plowshares your only creature as you're getting ready to attack with it. The role I see this card playing is to be a mid-late game option that will turn all of your creatures, including the old end-of-turn Dryad Arbor, into respectable threats.
Some lists have been running Sword of Light and Shadow in this slot. I think Light and Shadow is the better Sword against the field, but against Miracles specifically, you definitely want this. Also Bonus points for being the another Sword that allows you to attack past True-Name Nemesis."
Dan Neeley
"This is a great colour combination to combat Miracles. Not sure if the ability will make it not see play? I will be testing to see if it makes the cut over Sword of Light and Shadow."
Conclusions: A really interesting sword. These swords should never be compared to Sword of Fire and Ice but more so the 2nd best sword such as Light and Shadow or War and Peace (two swords that see competitive play in Maverick and Death & Taxes).  The colour protection is fantastic against Miracles which is one of Maverick's toughest matchups and still answers the big question that always comes up – does it help against True-Name Nemesis decks? Yes. I think this could see play in the board or as equipment #3 in the maindeck in the right meta.
StrassDaddy
"I don't think any of the honourable mentions will make the cut in Maverick besides maybe the two swords. Since and Steel seems like a sideboard option if you play 4 Stoneforge Mystic. Sword of T&J has protection from the best colours, but proliferate and 1+1 isn't too great. You can do a lot of cute stuff with that, but it seems like it's the weakest ability in our deck. Serra the Benevolent is a great mtg card, but I don't like 4 mana walkers in Maverick. 4 mana anything is a lot. Maybe it could replace Gideon, Ally of Zendikar for those who run it, but I am not sure. Hexdrinker isn't good in the deck as level-up in sorcery speed. Champion-Ranger of Eos is a cool card, but probably outclassed by other cards. Maybe D&T would like it? Maybe some other deck like Humans may like it."
Olle Råde
"I think Force of Vigor and Collector Ouphe are the only real options for competitive Maverick players (and those are strictly sideboard cards). Wrenn and Six is a very powerful card but I can really only seeing it shine in Lands or a Loam deck. I think Giver of Runes will shake up modern. It could become a meta call 3/2 split of the moms who knows. Plague Engineer is a decent option for sideboard deck in dark lists. Swords are meh. Serra the Benevolent will hopefully bring life back into a pet deck of mine, modern B/W Tokens."
Conclusions:
Modern Horizons has given us a great range of interesting and powerful cards to test, it will be interesting to see what comes out of the vigorous testing taking place over the next few weeks. I believe none of these cards are going to shift Maverick is any sort of new direction (as if Wrenn did it would just be towards 4C Loam) but many are great for better targeting local metagames.

Do you think any of these cards will see play? Comment below with the deck/s you expect to see running these cards.