Ikoria: Lair of Behemoths has been fully spoiled and is now live on MTGO! Usually with a new set comes an exciting period of testing cards in formats like Legacy, and seeing if they are up to the challenge of playability in an eternal format. Will there be any cards that are powerful enough to break into the format? Will there be any that will not just find a home, but completely dominate the format like past printings such as Oko, Thief of Crowns, Veil of Summer and Underworld Breach?
To give you all a special insight into some of the new cards I believe players will at least be testing in Legacy Maverick, I've called upon a few of the archetypes' most well-known players and personalities to give their thoughts.
Ikoria cards being reviewed:
– Vivien, Monsters' Advocate
– Call of the Death-Dweller
– Mythos of Nethroi
– Drannith Magistrate
– Lavabrink Venturer
– Fiend Artisan
– Kinnan, Bonder Prodigy
– Indatha Triome
– Bonders' Enclave
– Bonus: Guest Choices
Reviewers:
– Jordan Munson (author of Maverick on a Budget)
– Miranda Keith
– Connery Knox (Achillies27)
– Alex (Peach)
– Jono Yanik (Dreadnaught33)
– Tyrik Strachan
– Lorkac (Maverick Discord regular)
– MatsOle
– Douges
---
Vivien, Monsters' Advocate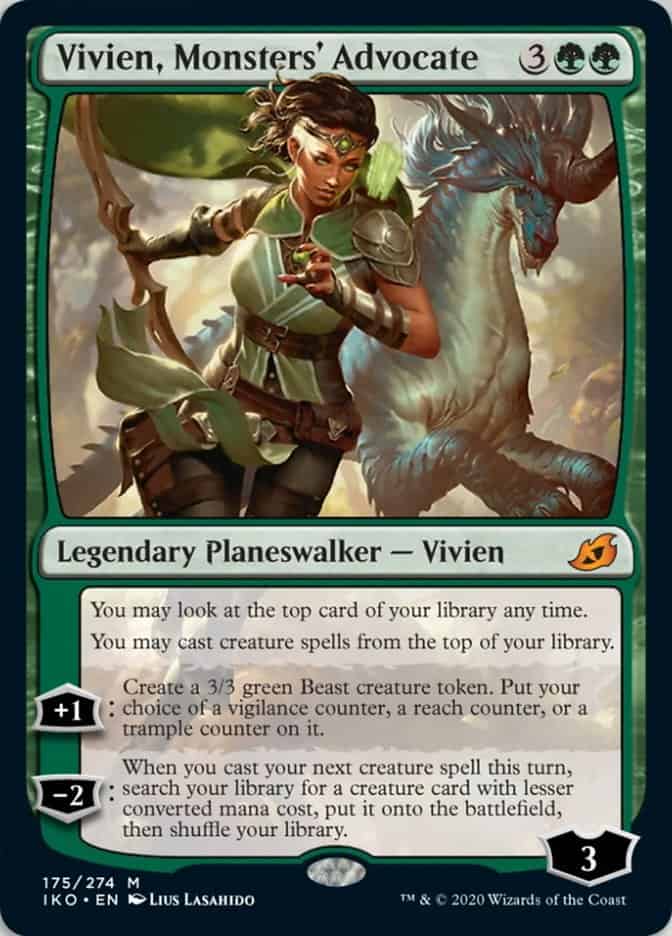 This card will probably not see play:
MatsOle:
I think Vivien needs to be extremely good at 5 mana, and I fear that since the creatures she creates don't have haste, you're better off playing Nissa, Vital Force, as sweepers are a bigger problem for Maverick than value decks.
---
Achillies27:
Vivien is probably just worse than Nissa, Vital Force in terms of 5CMC walkers.
This card will see some play:
Lorkac:
This is the card I am most excited about in this set. We already know 5CMC walkers work in Maverick thanks to the recent success of Achillies27, so a planeswalker that could potentially generate 2+ cards a turn is nothing to scoff at and is worth every bit of testing.
While the card is mainly for the control matchup, the -2 ability is particularly intriguing to me in its ability to allow Knight of the Reliquary to find a hatebear to protect it as well—be it Gaddock Teeg, Sylvan Safekeeper, or even just a plain Standard Bearer. As someone who enjoyed running Elvish Reclaimer in the past, even just getting 5 power into play when casting a Thalia, Guardian of Thraben is also intriguing—albeit, Thalia will probably just reinforce herself with a Noble Hierarch / Mother of Runes majority of the time instead of with a Reclaimer.
The card itself is very agnostic, mainly serving as one of the more exciting planeswalker options in a long time. Sadly, it doesn't really push Maverick into a new direction, but merely provides choices within a realm Maverick already had.
---
Miranda Keith:
We've always had a sideboard slot devoted to "random cards for grindy matchups", and this is another potential option there. 5CMC is a lot, but in the current meta, it's not remotely out of the question – and this card has some pretty powerful text on it. Making a 3/3 every turn is alright, but Garruk, Primal Hunter isn't really a playable card. The addition of a keyword isn't nothing, but overall, I think its strength is determined by how good the static is.
I will definitely be trying this card, but given that we play a surprisingly high number of non-creature cards and the fact that this planeswalker is fairly fragile for a 5 drop, I suspect it won't end up being better than existing options. I think it's definitely worth testing, though. If I were to play it, it would likely be in GW or GWR since black and blue splashes have access to better planeswalkers.
---
Dreadnaught33:
I actually think this card could see play in our deck. We have the right amount of creature density for the static abilities and the -2 is huge game. She also protects herself the first turn she comes down. In all honesty, this could take that 'grindy' board spot for us over things like Nissa, Gideon, Ally of Zendikar etc.
It possibly has the highest upside of all the walkers that already see play, and I'll be trying it without a doubt. I just wish the loyalty was higher for a 5CMC walker.
---
Peach:
I like everything about this card except the mana cost. Having previously played Vizier of the Menagerie as a grindy card, I like what Vivien has to offer. The minus turning our creatures into tutors/extra value is exactly what you want vs the blue piles/loam decks. Putting the card directly into play – essentially making the "cascaded" creature uncounterable – is huge. Getting to cascade Questing Beast into Sanctum Prelate to protect it sounds wonderful. The plus ability making flexible threats is also very nice, but not being able to give first strike means they are trading with elks who join the battle much earlier.
---
Tyrik:
She's our Future Sight planeswalker. The ability to cast creature spells from the top of the decks is the best card advantage from current planeswalkers. The downtick helps grab non-GSZ-able creatures (Thalia, Mother of Runes, Plague Engineer, etc.) from the deck and put them to the field.
She's a five-mana spell that can be a deterrent for deck building. Compared to other 5-drop PW Nissa, Vital Force, her abilities are a bit underwhelming. I believe she will have a place to stay in the GW/Abzan builds. I would be replacing my Garruk Relentless for her.
---
Jordan:
This card seems very sweet, but at five mana, it's hard for me to imagine that it really gets to see play in Maverick. Generally for this sort of effect and role, I think you really need to be a 4CMC or less so you can get it in on turn three in your grindy matches, or get it on turn four with added protection. Right now Gideon, Ally of Zendikar; Elspeth, Knight Errant; Vraska, Golgari Queen; and Garruk Relentless are pretty tough to unseat in that slot (and even those aren't seeing a ton of play these days).
Like many spoilers, this one is cool but likely not good enough. I think the only way that this sees play is if the -2 ability ends up being a lot better than it seems. But it's hard for me to imagine that deep into a game, despite an uncounterable tutor being really nice.
---
Douges:
I think Vivien is a really interesting planeswalker that could see play in competitive Legacy Maverick lists. I really like that the static ability doesn't show your opponent the card on top of your library (like Courser of Kruphix) until you cast it.
The +1 doesn't seem great for a 5CMC walker, though the ability to create a creature with reach is appealing. We usually have a tough time defending the air, but if you haven't answered an Insectile Aberration by turn 4 or 5, you're most likely dead.
The -2 ability is nice as it's triggered on cast and not an added ETB effect. The ability to tutor for the creature card is much more powerful than a cascade-style effect. This means if you cast a three drop like a Knight of the Reliquary into a tapped-out opponent then grab Thalia, Guardian of Thraben, they can no longer counter the Knight. The same works for grabbing Gaddock Teeg if they don't counter the Knight with their Force of Will in response to the trigger. The big downside is her being a 5 CMC Planeswalker and only having 3 starting loyalty, down to just 1 if you neg straight away. I think this Vivien looks great on paper just the like past 3-drop Vivien, but won't live up to the hype when actually played.
Final Verdict:

Although a very interesting planeswalker, Vivien just doesn't look like she's going to provide anything new to the Maverick planeswalker suite.

The sweet spot for walkers in Maverick seems to be at 4CMC, with Gideon, Ally of Zendikar and Vraska, Golgari Queen both having a great impact in the current meta game.

But if you're wanting to test her, don't let me stop you. I'd love to be wrong about Viven as she seems like a fine choice for the current grindy metagame (if companions don't run over the format).
Call of the Death-Dweller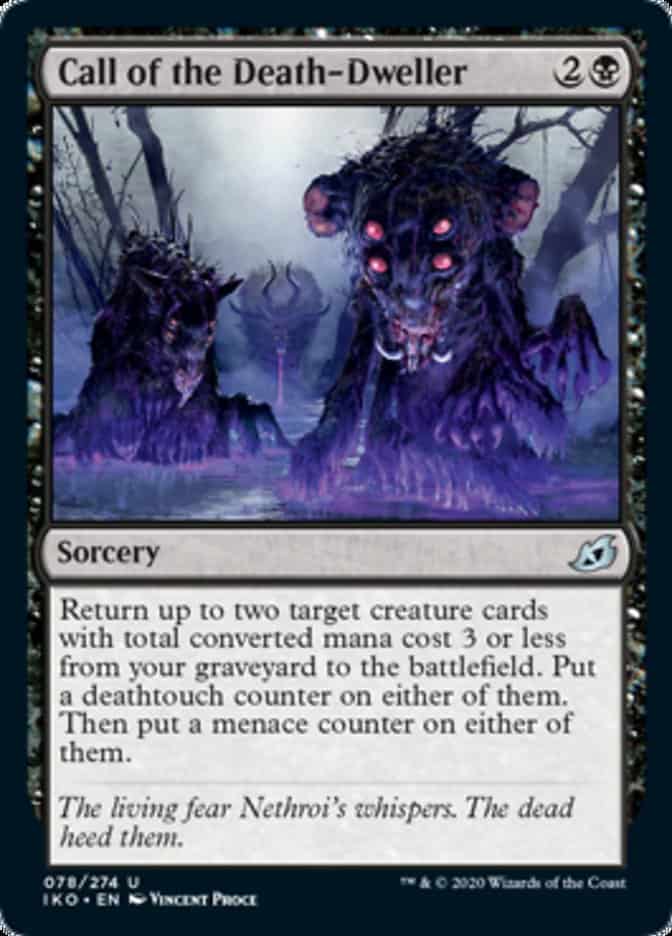 This card will probably not see play:
Lorkac:
The long-and-short is that this card is bad. Not really bad, exactly, just not really that exciting. The obvious comparison is, of course, Painful Truths and Abzan Charm. It gains less cards than Painful Truths while being less flexible than Abzan Charm. Its main power over both being the tempo play of gaining two cards immediately instead of simply drawing more cards. The real issue is that you'll often get that exact same value off of a Renegade Rallier, which is unfortunate because I just talked about three cards more exciting than Call of the Death-Dweller and none of them are seeing play as is, let alone Call of the Death-Dweller.
---
Miranda Keith:
This would be a sideboard card for grindy matchups, but other options are better, especially when we consider that in the current meta if Knight is leaving the battlefield that's frequently because she got plowed by Swords to Plowshares. Getting back Thalia & Mom is appealing, but half the time you have both of those cards in your graveyard is because of Plague Engineer. Overall, I think this card is probably worse than Unearth and as we never play Unearth, I'm likely not going to give this a shot.
Dreadnaught33:

When I first read that, I was super excited 'cause I thought it meant you can get back 2 three drops/2 drops – but its total CMC, which is probably not worth it. Cards like Renegade Rallier would be better in this role.
MatsOle:
Call of the Death-Dweller is an interesting card, but I'm not sure that's where Maverick wants to go. Might be a nice sideboard card if Snoko keeps being one of the top decks, but it's also kind of narrow.
---
Achillies27:
Not playable – we should just play the much more powerful Sevinne's Reclamation if we want that type of effect.
---
Jordan:
This card seems sneaky powerful in the right deck, but ultimately, I don't think it's what Maverick really wants to be doing. If this type of effect was good enough, we would likely see more reanimation splashes or people playing Seveinne's Reclamation, which isn't really happening.
---
Douges:
Sadly, this just isn't up to par for a non-creature card in Maverick. Renegade Rallier and Seveinne's Reclamation have seen play in the past, but if they aren't staples in the deck, I don't believe this is going to see any play.
Final Verdict:

Sadly, just not good enough. This doesn't help against opponents on Swords to Plowshares or Terminus, and is just worse than other cards mentioned above that don't see consistent play in Maverick.
Mythos of Nethroi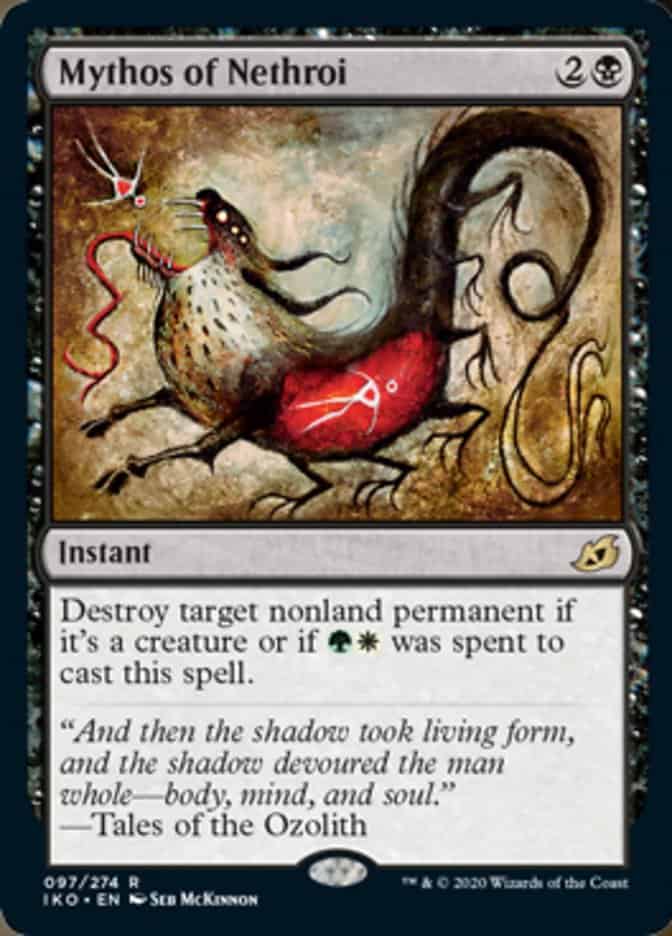 This card will probably not see play:
Achillies27:
Like Call of the Death-Dweller, this is also not playable. 3 mana is too much. We already have Abrupt Decay and Assassin's Trophy if we are in black. This is worse than both in almost every way.
---
Peach:
I'm not keen on the black in Maverick at the best of times, so I'm not inclined to try this. It's essentially a Vindicate, which we already don't play, and I'm not convinced that instant speed makes up for the non-land clause.
---
Jordan:
This one sure reads like one that would make the cut, right? Then you think about the fact that you'd probably rather play Swords to Plowshares, Abrupt Decay, Assassin's Trophy, Vindicate, Anguished Unmaking, etc. A good card, but not good enough to trump the existing Legacy staples at that slot that junk Maverick players have access to.
---
Tyrik:
Mythos of Nethroi is mana intensive and expensive for what the effect does. There are other cards like Council's Judgment and Assassins Trophy that have a similar effect. In comparison, this card feels "weaker" between the other two. Now this effect doesn't have a drawback, but paying the one mana does play a vital role, especially in regard to how the cast is going to be paid.
This card will see some play:
Lorkac:
I know most current Maverick players only play Abrupt Decay, but I am of the opinion that the suite of options available to Abzan Maverick is always worth reviewing before you bring your 75 to an event.
Abrupt Decay is the baseline, and is where all comparisons have to be made. Assassin's Trophy hits more things, but comes with a drawback. Maelstrom Pulse doesn't have the drawback, and can be used to clear multiples, but also costs more and is a sorcery. I have used Abrupt Decay and Assassin's Trophy on and off over the years, often leaning on Assassin's Trophy over Abrupt Decay because of its ability to hit Dark Depths, Griselbrand, Elesh Norn Grand Xenobite, Jace, the Mind Sculptor, Tabernacle of Pendrell Vale, etc.
The one matchup where the "can't be countered" would have been important is Delver, but that matchup is good enough and the combo matchups winnable enough that I often run sideboard hate for combo/control matchups and less so for Delver. Back when Death and Taxes, and Elves, and Stoneblade were more prominent, I was also more likely to lean on Abrupt Decay as the important matches warranted instant-speed removal that couldn't be countered and didn't give my opponents a land.
Where does Mythos of Nethroi fit into this? It wants a meta where you have big non-land targets (Griselbrand, Jace, Elesh, Hogaak, etc.), and lots of creature decks where you can't afford to give them lands (Elves for example), and in this same meta there can't be a lot of Daze decks. Does that meta exist? Right now, no. Could it? Yeah, it definitely could. A meta can exist for any of these Abzan/Golgari/Orzhov removal options – it's up to us to be cognisant enough to see it when it happens.
---
Miranda Keith:
Do I think this card is playable? Yes, just not always. Council's Judgment is a card we sometimes play, and this is basically that but slightly less flexible and an instant. While it's likely worse than Abrupt Decay for the most part, I'd say it's about on the same level as Council's Judgment/Assassin's Trophy. I don't expect it to be some amazing card, but I absolutely expect I'll end up playing it at some point in some metagame.
MatsOle:
Mythos of Nethroi is a good card, but Junk never played Vindicate before, so is instant speed that important? I think Decay will be hard to beat, but depending on the threats that gets played, this might be worth a slot (as it hits Karn and Urza among other things).
---
Douges:
I believe Maverick already has enough ways to deal with permanents through Decay, Trophy and Council's Judgement (with many other cards in between) so I'm not going to be testing this card. It just doesn't make any matchups better that we currently struggle against.
Final Verdict:

Just not good enough. Maverick has a great removal suite, especially when splashing black. These options don't cost 3CMC or have restrictive mana requirements. I believe I'd even be playing Vindicate or Anguished Unmaking before I tried out this card.
Drannith Magistrate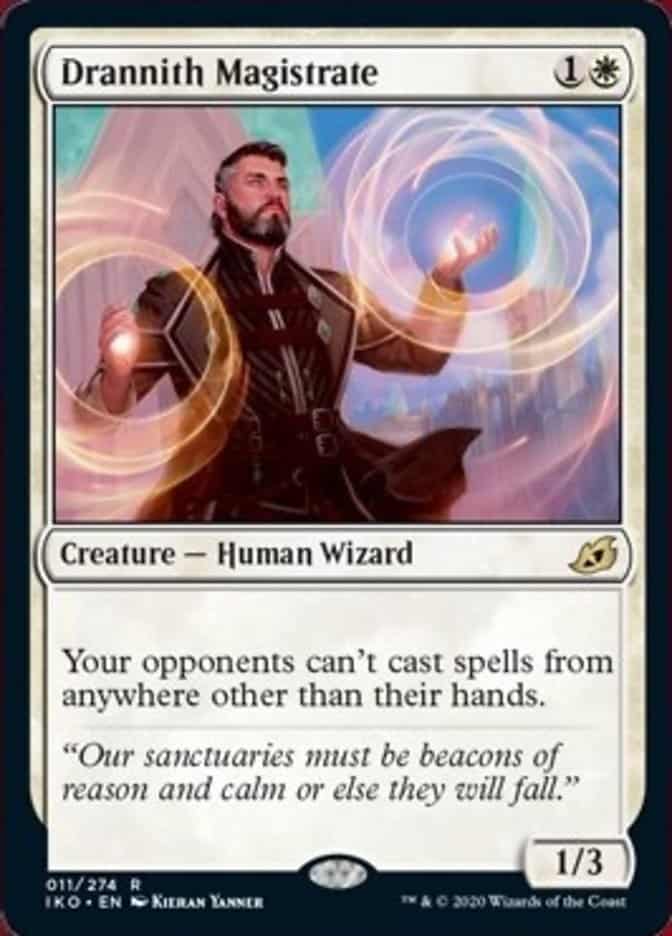 This card will probably not see play:
Lorkac:
The card is bad. It stops flashback, Hogaak, Gravecrawler, and maybe companions later if companions get too good in Legacy — and even that is questionable. This card was meant to be a stopgap should companions be too good and to give the set a cheap hatebear, and in that regard, this card is great. But for Maverick? There are better options.
---
Miranda Keith:
As Underworld Breach isn't legal anymore (and this probably wouldn't have been good enough anyway), I don't believe this will make it into Legacy Maverick. Really narrow 1/3 hatebears historically aren't good enough, and I don't see why this would be an exception. It's OK at turning off Uro/Snapcaster Mage/Dreadhorde Arcanist, but so is Scavenging Ooze – and that's a much better card. It does hose companions, if something like Zirda, the Dawnwaker combo turns out to be good, but we likely have better cards there anyway.
---
MatsOle:
I feel like Drannith Magistrate could be good in another meta – I think Ooze just does the job better at the moment as it's also a threat.
---
Achillies27:
Drannith Magistrate looks worse than any of the other hatebears we already have, and it isn't green, so I don't think this card is near playable in Maverick. It just doesn't stop anything that we need it to stop that aren't already stopped by our suite of hatebears, and a 1/3 body sucks compared to a 2/2 or 2/1 when we are often the beatdown in the matchups where we want hatebears.
---
Peach:
I like that it stops companion and Uro/ Snapcaster Mage / Dreadhorde Arcanist. I don't like that it has poor stats and we can't GSZ for it. It's unlikely it will see more than fringe sideboard play unless companion really dominates and we're still trying to play fair GW idiots.
---
Jordan:
I don't think this one sees play. There are a lot of similar effects to this already in the game that are better at fighting the graveyard battles. Unless companion cards really take off, I can't imagine that this one makes the cut in any Maverick lists. I could maybe see this one getting included in some D&T lists depending on how the meta shakes out, since this is good against Snapcaster type effects (even then, it seems like a stretch).
---
Douges:
I don't like this card from a power level, and I hope the meta doesn't warp into a metagame where it's need. Scavenging Ooze helps against decks that use their graveyard sparingly as a resource.
Final Verdict:

I don't think the current Legacy metagame warrants players to have this card in their lists, but a strong showing of companion decks over the coming weeks could very much push this card into the 75. It's a really interesting card, but currently cards like Scavenging Ooze and Containment Priest cover Maverick pretty well.
Lavabrink Venturer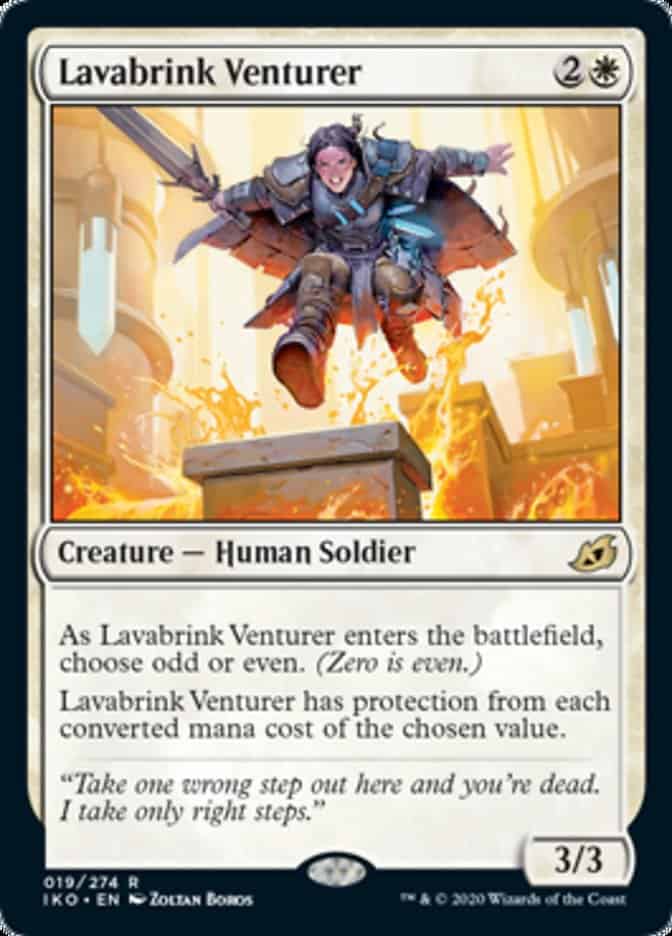 This card will probably not see play:
Lorkac:
The long and short is that this card is both better than it looks and worse than it looks. People are most excited about this guy because of its ability to be protected from both Swords to Plowshares and Oko, Thief of Crowns against Miracles. But that's not really true, either…
Because if you pick odd, it means your Mother of Runes can't protect your 3/3 once Oko turns its food token into an Elk.
This isn't a dealbreaker, per se, and I think this is a very exciting card. I will definitely own a playset of it, and it excites me in the same way that Mirran Crusader excites me. But that's also my issue with the card—I'm already unable to find room for Mirran Crusader and now I have the option of running a harder-to-hit but hits-less-hard threat than Mirran Crusader. One of the best parts of Mirran Crusader is how he is able to ignore the elk blockers and hence requires Bant Miracles to find removal—Lavabrink Venturer doesn't do that. He's small enough and blockable enough and hits softly enough to just be another card stalled out by elk blockers.
That doesn't mean I'm not excited about this guy, and it doesn't mean I don't think he's good. But in my rudimentary testing, he doesn't actually do as much as you imagine him doing.
---
Miranda Keith:
Lavabrink is certainly interesting, and being able to have protection from Plow and Oko and Astrolabe Elks is pretty nice. That said, it's really bad against Ice-Fang Coatl and it also turns off our main ways of forcing a creature through Ice-Fang. It's possible that it's good enough, but I think if I want protection from Oko and Uro and such, I'd rather play Mirran Crusader.
It's probably pretty reasonable against Bant Snowpile, but Ice-Fang is a real issue there, so it's hard to say.
---
MatsOle:
Lavabrink Venturer could be strong vs Delver with picking odd, but at the end of the day, it's just a 3-power beater. It might see some play, but it doesn't impress me too much.
---
Peach:

I'm not sure this set really offers Maverick much, but it does bring power to a lot of other decks due to companion. And right now, Maverick and Death and Taxes need all the help they can get.
---
Achillies27:
Lavabrink Venturer might be playable, but it's not green, and most removal suites include Decay, Assassin's Trophy as well as board wipes at the moment. It could be strong against Delver, but most cards that we tap 3 mana for that aren't uncounterable against Delver better be good. I'd pass on this.
---
Dreadnaught33:
Lavabrink is too situational and not high-impact enough across the board.
---
Peach:
I'm very unsure about this card. It's almost True-Name Nemesis but also not even remotely close to it. We can choose odd and it becomes protection from Oko and Swords to Plowshares and then it gets Abrupt Decayed or eaten by an Ice-Fang, (can't protect it using  Mother if we name odd) or we name even and it gets Oko'd, Bolted and can't carry a Jitte. Probably a pass on this, sadly.
---
Jordan:
As a white creature, I'm a lot less interested in this than if I could tutor it with Green Sun's Zenith, but in a format like Legacy where there are just so many things to care about, I have a hard time imagining this card making the cut anywhere. I bet some D&T pilots will give it a whirl and realise it is just sort of awkward. Play it on two to avoid Decay? They'll hit Fatal Push (and vice-versa). This is a far cry from True-Name Nemesis.
---
Douges:
I was trying to think of matches were I'd want this and not Mirran Crusader, a threat that's been seeing more MD play since the rise of BANT. Nothing comes to mind – I think this just isn't a card meant for Legacy outside of a Soldier Stompy shell (if that).
Final Verdict:

Again, a seemingly powerful card that just falls short. Legacy players have a huge pool of powerful removal spells, so having the option to have protection from half of them isn't going to get you anywhere these days. With Green Sun's Zenith being such a powerful engine, you need a really good excuse to run a non-fetchable creature, as it tends to take a slot away from one. If you want to run this creature, ask yourself why you're not running Mirran Crusader first.
Fiend Artisan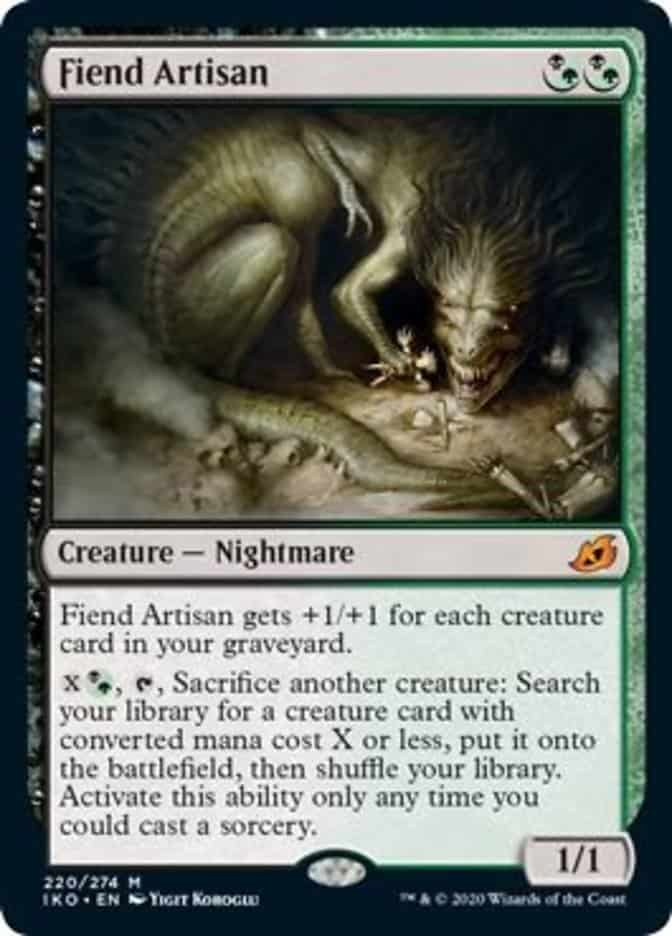 This card will probably not see play:
Miranda Keith:
Do I think this card is playable? Probably not. It's definitely powerful, but it's slow and mana-intensive, and sacrificing a creature is a real cost. I think this card is strong and will likely find a place in Legacy, but I don't think Maverick is the right place for it.
I'd want to be playing reasonable density of creatures that either have ETBs and can be sacrificed for value, or do something when they die. That likely means a Baleful Strix/Ice Fang + Veteran Explorer deck, which could be very real, but isn't really Maverick anymore.
Theoretically, this card helps any of Maverick's bad matchups because being able to tutor up random non-green silver bullets like Sanctum Prelate or Ethersworn Canonist is really strong, but I think it will be too slow for it to matter against the decks where those cards are good.
---
MatsOle:
Fiend Artisan might see some play as it enables you to turn manadorks into threats and disruptive creatures and better play around cards like Plague Engineer. This might be worth a slot, but I don't feel that it really solves Maverick's problems.
---
Dreadnaught33:
I think this card has an appeal, and I know a lot of Maverick players will try it because our Zenith for X=2 targets are just Ooze and Collector Ouphe at the moment.
I think you'd likely want to build around this though, and I believe that would push your deck in an aristocrats value direction as opposed to what our deck normally does. I'm not planning on trying it, but I won't be shocked if a Maverick type deck has success. It just seems too slow and mana-intensive to me.
---
Douges:
I think this little guy might just be a little slow for Legacy. It seems great in a deck that includes multiple creatures with ETB effects, but Maverick isn't one of those. Fauna Shaman has seen a ton of play in Maverick, but over the years, most players changed the direction of the deck to be more threat-based, relying solely on Green Sun's Zenith for tutor effects. I think if Maverick truly needed this ability, we would have seen much more Pod testing over recent years.
I don't know if it would just be broken if the ability was instant speed, but that's the change I need to see on this card for me to call it a competitor for a slot in the deck.
This card will see some play:
Lorkac:
This thing's got Elvish Reclaimer vibes written all over it. After my recent success with the elf, I have to give this thing more credit than I really want to.
When I started testing out Elvish Reclaimer, it was because of Miranda's success with it as a 1CMC beater she could tutor for, and so I ran it as a one-of in my list just to see what the hype was about. She eventually shifted to Hexdrinker while I actually really enjoyed the card to the point that not only did I go up to two in my maindeck when I went to GP Atlanta 2019. I also went up to four Reclaimers when I went to Eternal Weekend that same year.
This card gives me that same vibe, albeit, less so. A casting cost of 1 is less than a casting cost of 2, and requiring creatures in the graveyard is much harder to depend on than lands – especially against Terminus/Swords to Plowshares matchups. On top of that, the sorcery speed nature of his ability means that we have to over-commit to his search ability compared to the more reactive nature of Elvish Reclaimer's ability. I have won a lot of games simply keeping an Elvish Reclaimer untapped and inactive to serve as a response to whatever my opponents would be doing; this card won't have that flexibility.
However, I also know that when I got to running the full playset of Elvish Reclaimers, I also went all the way up to 24 lands in my maindeck – as the power of Elvish Reclaimer is in its ability to fetch for utility lands, especially by the second turn, and hence you need those cards in order to make an impact with Reclaimer. The one saving grace of this card is that it actually favors low land-count lists, meaning it will be easier to fit into stock Maverick lists than Elvish Reclaimer. And it's that one fact that makes me think this card is much better than I give it credit for.
---
Achillies27:
I could see this being played. The ability to sac sub-optimal hatebears that we draw by chance into relevant threats and pieces of disruption is great. Being able to sac creatures with ETBs that we've already made use of (like Knight of Autumn) also generates a ton of advantage. Turning late game manadorks into threats also lets us grind very well, while Artisan's body is also probably going to be quite big on its own in a long game.
I will probably play it as a 1 of to start – I don't know if I'd want more. There is definitely a critical mass of these tutor effects that we want, so this card might run into issues kinda competing with GSZ/OUAT. It also provides no value straight away, so being open to all hate is a little awkward.
---
Peach:
Probably the card I'm most excited about. It is both a threat on its own or can snowball ahead as a card advantage engine. Birthing Pod on a creature sounds exactly like my kind of Magic. I would like to try this with a few more ETB/die effects. It also plays nicely with Scryb Ranger. I might even try a build-around version with multiple copies, but I'll be slotting just 1 into the decklist for now.
---
Tyrik
A two-mana Birthing Pod… kinda? At first, I was unimpressed with the ability and the stats. However, I started to think about the implications: more non-GSZ silver bullets in the main, it's re-curable with Dryad Arbor + Ramunap Excavator, and can be activated twice a turn with Scryb Ranger. The ability is sorcery speed which is a pretty big downside, but that's really it. I believe this creature can solve one of the problems of the deck's construction: More silver bullets means more versatility in matchups.
---
Jordan:
I was genuinely stoked for this card when I first saw it previewed, and I think it will see play. It seems like a good one-of target for Green Sun's Zenith to get both a beater and an additional tutor engine, especially late game when manadorks aren't as useful and we have duplicate Thalias or something. The added bonus here is that it lets you tutor for any color creatures. I suspect we'll see a bunch of folks trying lists that lean more on this card and Once Upon a Time over Green Sun's Zenith. Who knows if it could work, but it doesn't seem unreasonable. I'm hopeful that this one actually sticks around, though I doubt it's more than a 1-2 of in some lists.
Final Verdict:

It looks like a close split between players wanting to test this out as an extra tutor/late-game threat. Although this creature lets us tutor out non-green disruptive creatures like Thalia or Prelate, I think it's too slow against the combo decks you want them against for that to be a reason to play it. I'm really interested to see how players who test this card out shift their list towards more value creatures/a wider creature list to increase the effectiveness of the decks tutors.
Kinnan, Bonder Prodigy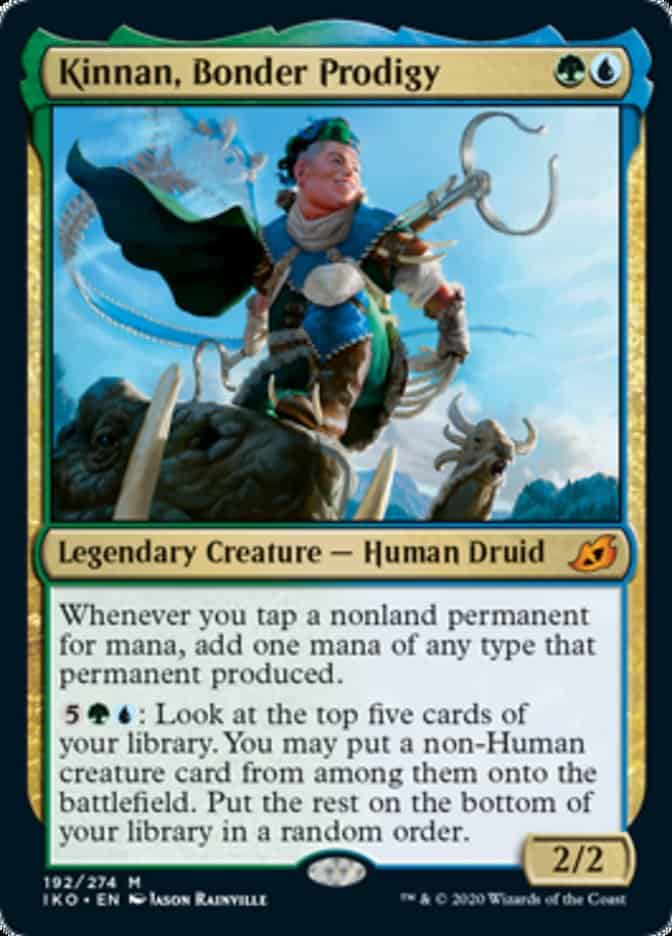 This card will probably not see play:
Lorkac:
This card is nuts. Not in Maverick – sadly, both its effect and its payoff are far too low-impact to be good in Maverick – but the card itself is nuts. Right now, Maverick has too few non-land mana sources and too many humans for either half of this card's abilities to be meaningful. You'll both only be getting a mere 0-1 extra mana per turn and you'll more often miss with his ability than hit. But I'm certain there's a deck that could be made in Legacy that can leverage this card – I'm looking at you, Urza.
---
Miranda Keith:
I don't think this card is playable in Legacy Maverick. It only works with our 4-5 non-Arbor dorks, it's activated ability is over-costed, and we play a lot of Humans anyway. If this is Legacy playable, it's in the same combo deck as Zirda, not Maverick.
---
Achillies27:
Kinnan-not even close to playable in maverick. She's basically a 2-drop mana dork that has a bit higher of a ceiling, and if games go really long, we might one day get to activate her ability with Gaea's Cradle. But she seems bad, and she's also in blue, so splashing for a 2-drop super mana dork seems bad. If you just want to play BANT Maverick, the slots are already tight enough with fitting in Okos and everything else.
---
Jordan:
A lot of people were hyped on this card when it was spoiled, and it is certainly a powerful effect, but I'm not sure that doubling the effectiveness of manadorks is really enough for this card to be considerable in Maverick. Its activated ability is underwhelming given our creature makeup and not likely to ever be in-range to cast without having better things to do.
---
Douges:
This card has EDH all over it, but I'm not sure if it's just overkill for the Legacy decks that would want it. I don't think Maverick is one of those decks, as relying on manadorks even more to produce the mana for the rest of our deck is already targeted by removal, sweepers and cards like Plague Engineer. 7 mana to look for a non-human creature in the top 5? If I'm activating this, I'm going to be in a very bad way. I don't think this does anything for Maverick against our tough matchups, so I don't believe it's going to be seeing much play.
This card will see some play:
Dreadnaught33:
I'm very interested in this. Again, 2 drops are where I'm looking to upgrade in my Maverick/GWx type builds. I personally mess with Mox Diamond and dorks, sometimes both, and this is VERY interesting in that shell to ramp into monsters like Titania or Titan in like a Dryad/Mav-Depths shell. I will 100% be messing with this card as it allows you to still play the Uro/Oko plan without feeling too bad about yourself (well, I still feel evil when I do).
---
MatsOle:
Kinnan is another card that is very powerful, but also doesn't solve the sweeper problem Maverick has at the moment. If you're already playing blue, I think you're putting this in your deck.
---
Tyrik
Doubling Season on a body? That's cool. The ability to have our manadorks make more mana is interesting. Cons? Deck restrictions. The activated ability requires more creatures for a higher chance of hitting a creature. This could be playable is a GUx version of Maverick.
Final Verdict:

I really don't know if this has a set group of players looking to test this straight away in a Legacy archetype – I know it's most likely not Maverick. The static ability seems really powerful and could be game-breaking in other formats, but I don't see a Legacy archetype that can really harness its power. As Randy Buehler would say, this card has 'shenanigans' written all over it.
Indatha Triome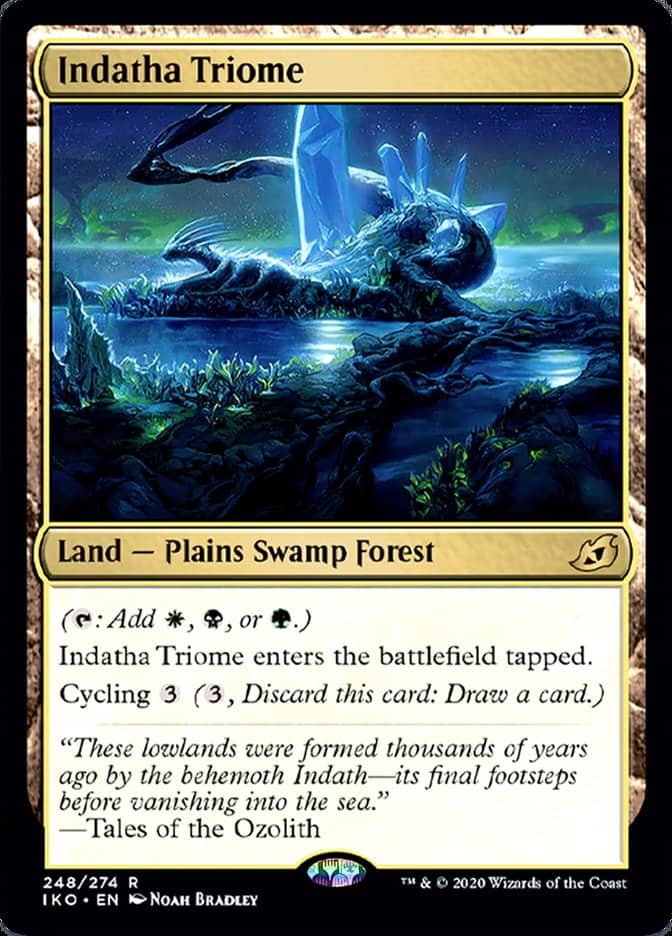 This card will probably not see play:
Lorkac:
The card is bad. I mean… not bad, just hard to make worth the slot. There will definitely be decks this card will find a home in, just like Sheltered Thicket did – just not in stock Maverick lists. However, I am currently experimenting with 4C and 5C Maverick shells, and this card is definitely on the table of cards I want to try out.
---
Miranda Keith:
Taplands are bad. Don't play taplands.
---
MatsOle:
Maverick has a lot of extra mana at times, so cycle 3 might be possible, but I've never wanted Murmuring Bosk before, so I don't think I want this.
---
Achillies27:
Not playable. We need our lands to enter untapped.
---
Dreadnaught33:
Interesting but too low impact.
---
Peach:
Not interested in this at all. I'm currently not playing 4 Savannah so unlikely to want another dual, especially one that can't be used on t1. The likelihood of me cycling it is too low for the upside of cycling, especially when we have Horizon Canopy as an option that can "cycle" while in play (full art looks dope though).
---
Tyrik
Its a tri-color land that can be fetched from the current fetch lands played in Maverick. Also, cycling is great. However, it comes in tap which can really hurt us building out our board on curve.
---
Jordan:
The Triomes might be the cards I'm most excited for in this set. It seems pretty good as a one-of in junk Maverick lists that are running Ramunap Excavator, Crop Rotation, or Life from the Loam. I don't expect the cycling aspect to come up much, but in a deck that cares about basic land types for Knight of the Reliquary, can recycle lands pretty well, and can grab lands at the end of turn without much trouble, these seem nice. I suspect they won't see a lot of play outside of more budget lists, but they're really nice. It'll make splashing on sub-optimal manabases a lot better (though I think you're generally still better off playing shock lands in Maverick).
---
Douges:
Sadly, we just want lands that don't take a turn to be used. Bojuka Bog is really the only land that comes into play tapped that sees competitive play, but that's because it's the ETB effect that's more important – not the mana it produces.
Final Verdict:

The upside of cycle is just not worth the downside of coming in tapped. If you're after a land that can be churned later in the game, check out Horizon Canopy or Nurturing Peatland.
Bonders' Enclave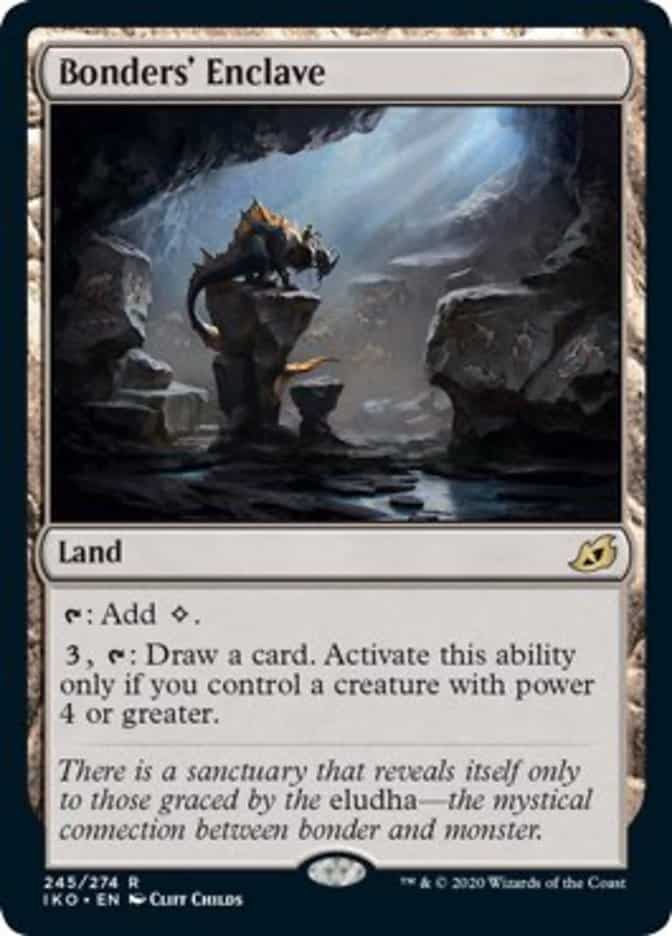 This card will probably not see play:
Lorkac:
This is the most frustrating card for Maverick in this set. The reason is that Maverick is the only deck that this really can fit into, as it's the only deck that can easily search for this land while protecting its 4-power creature so this land can be activated multiple times a game.
But… the matchup in which you want an effect like this also happens to run sweepers like Terminus, which will not only wipe out your board, but will also turn off the card advantage engine you were hoping to help you recover from the sweepers!
So the real issue with the card is that it's really good, except for the one matchup that you actually want a card draw engine in – which is why this card is so frustrating.
---
Miranda Keith:
Do I think this card is playable? No. It's only active with Knight in play and costs four to activate so it's super win-more.
---
Achillies27:
This card also sucks. In order for it to generate advantage, we need to already have stuck a big creature on the board. It costs an effective 4 mana to activate, and it only taps for colourless. This card is not even close to playable in Maverick.
---
Peach:
Not sure how I feel about this, I guess it's free to put in our decks over a Horizon Canopy or similar, tutour-able by Knight, which likely turns the card on instantly. Without equipment though, how many 4-power creatures are we likely to have to activate it? 4 Knights, 1 Questing Beast and maybe a Tireless Tracker ? Would consider it if we have some additional large threats and need another card-advantage engine. For now, it's a pass.
---
Jordan:
This card seems like a commander card, enough that I didn't even realise it wasn't until it was in the list of Ikora cards I was asked to review. It seems like a fine card in commander and might show up as a fun-of in some Maverick lists, but there are better ways to accrue card advantage as a Maverick player than this. Moreover, colorless lands are harder and harder to absorb as a Maverick player, especially with a splash. I think I'll pass on this.
---
Douges:
The manabase can already be a little rough at times with 4 Wasteland, so another colourless source doesn't sound great.
Final Verdict:

Just not good enough. Again, if you're after a land that draws cards, go for Horizon Canopy or Nurturing Peatland.
Guest specials:
Lurrus of the Dream-Den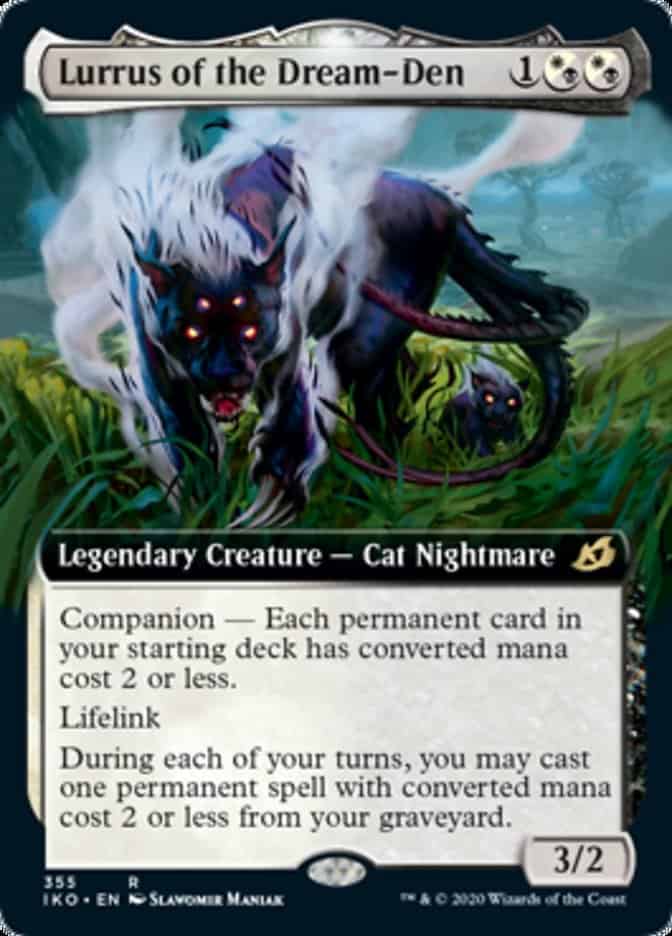 Lorkac:
While it would be unfair to call this card a sleeper as there are some high levels of excitement for it, I think this card is underappreciated within the Maverick community.
But I often am the only player running no more than four 3 drops in my main while also being in the habit of siding out those four Knights in several matchups (Elves, Miracles, Storm etc.) just to lower my curve and lean more heavily on hatebears (Miracles/Storm) and evasive threats (Elves) instead of on just my fatties. So me thinking that Larrus is a great way to recover card advantage in those matchups might just be my bias against the higher curves most others play – but I am looking hard at this card, most definitely.
Jegantha, the Wellspring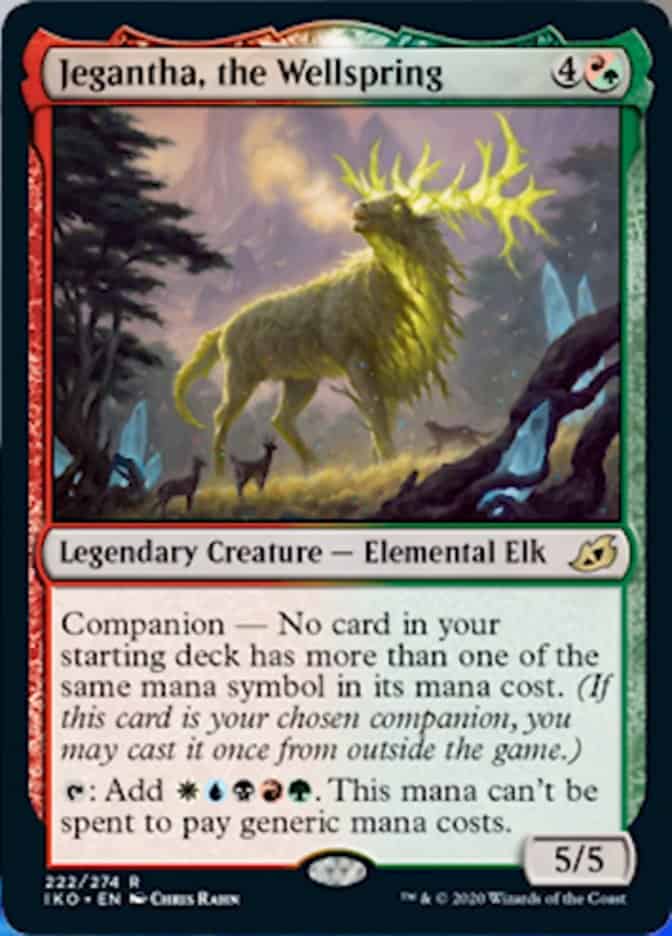 Lorkac:
Speaking of companions, this is the less exciting but much easier to splash version of Larrus. The best part of Larrus is that you can spend 5 mana to generate 2 cards in one turn – this guy is a bit blander at 5 mana to generate 1 card in a turn. But he's also easier to slot into a list than Larrus and will often be "good enough value" being a free threat from your sideboard.
The biggest value add of Jegantha is the low cost of her inclusion for the value she provides. One sideboard slot to potentially generate a card in grindy matchups intrigues me greatly, and will forever be in my 'maybe' board for those events where I can't figure out a 15th card in my 75.
---
Miranda Keith:
If we happen to be already playing a list that satisfies this thing's companion condition, we probably play it.
---
Tyrik:
A "free" 5/5 creature that can be cast from the sideboard allows to increase the threat count. Also, it's a beast at producing mana. It takes up one sideboard slot for the companion to work, which can constrain how to build the sideboard.
The ability to cast a card from exile helps increase the threat density. I don't think it's worth the effort, but it does solve a problem in the Pun/Naya builds where decks don't have enough threats.
Wintoa, Joiner of Forces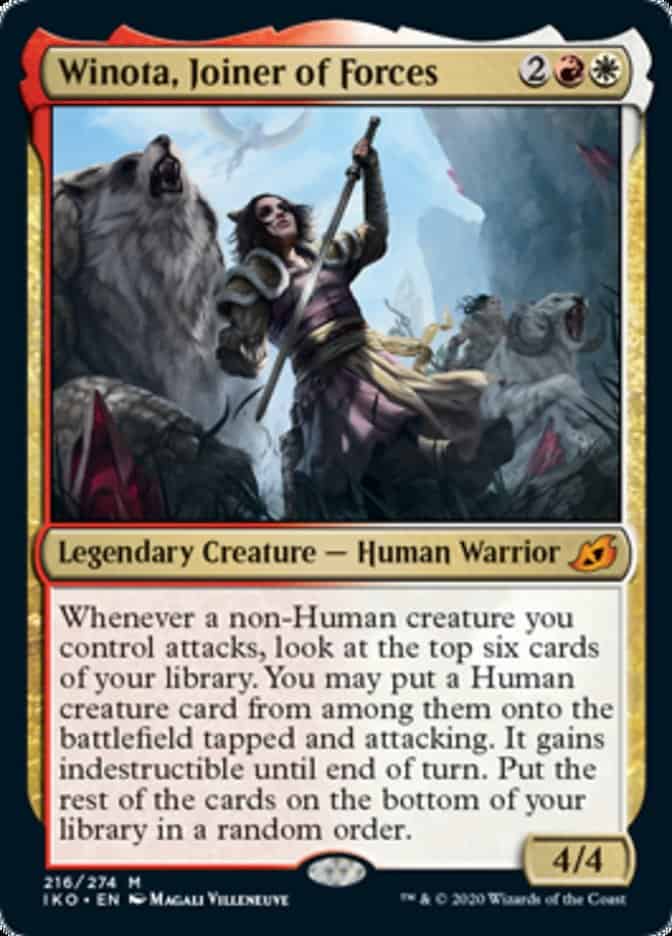 Miranda Keith:
She's a really cool card and that's a very powerful ability, but I don't think we quite play the right density of Humans/Non-Humans for her to work, even if I really want her to.
Death's Oasis

Miranda Keith:
Could actually be pretty reasonable if we end up back in a meta where the primary forms of removal destroy instead of exiling – especially in conjunction with Fiend Artisan. I'm sure there's also some way you can put together a combo kill with it, but I'll let someone else figure that out.
Brokkos, Apex of Forever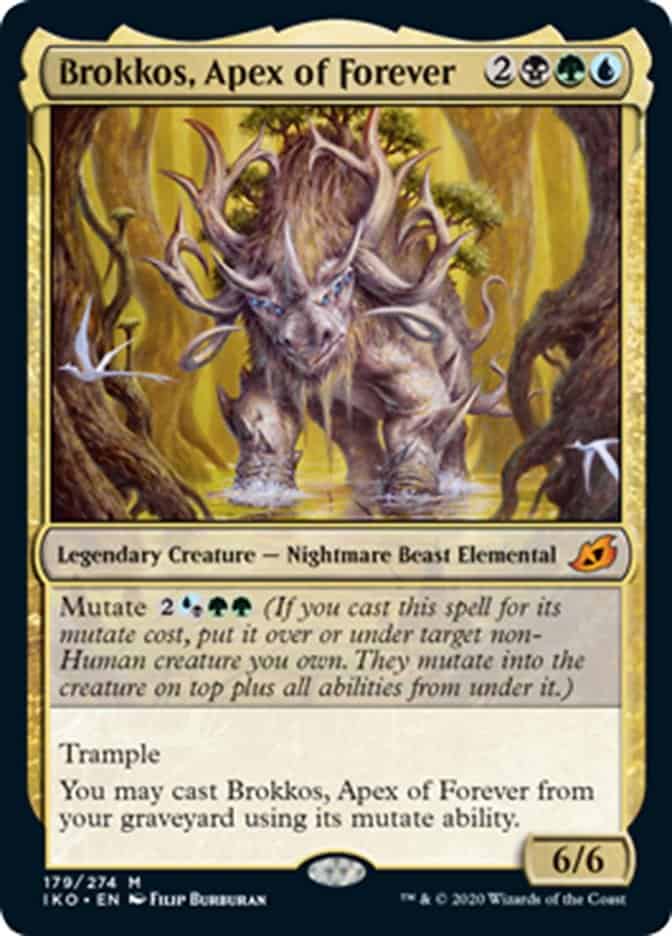 Tyrik:
Its casting cost and mutate cost are similar and it's a threat we can recur from the graveyard. Trample is quite relevant in a format with Young Pyromancer, Ice-Fang Coatl and TNN.
Nethrio, Apex of Death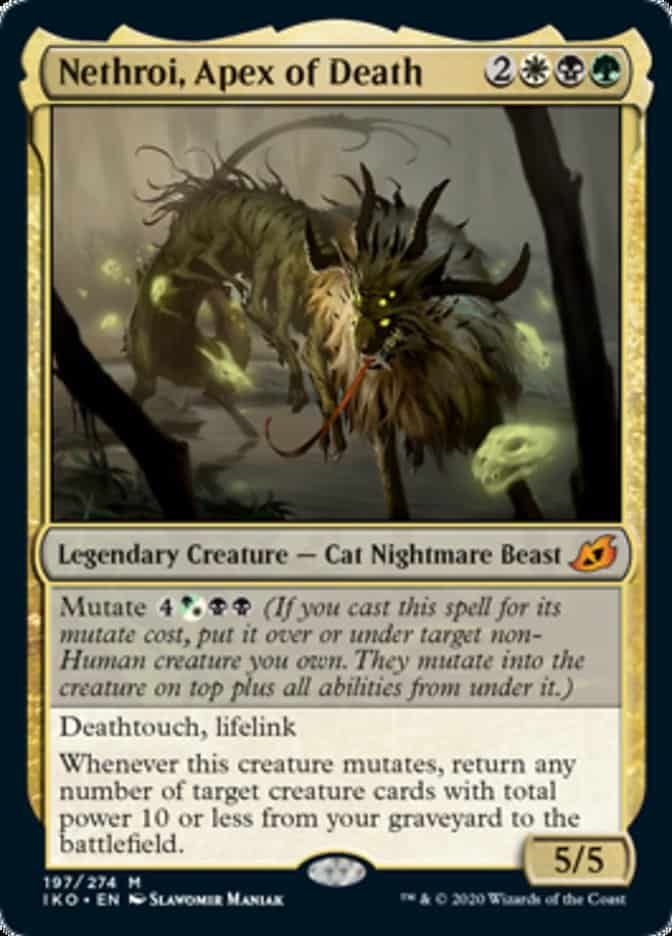 A 5 mana 5/5 Deathtouch Lifelink creature that can be GSZed for is pretty solid, but the mutate ability has an expansive cost. An interesting end-game threat.
Chevill, Bane of Monsters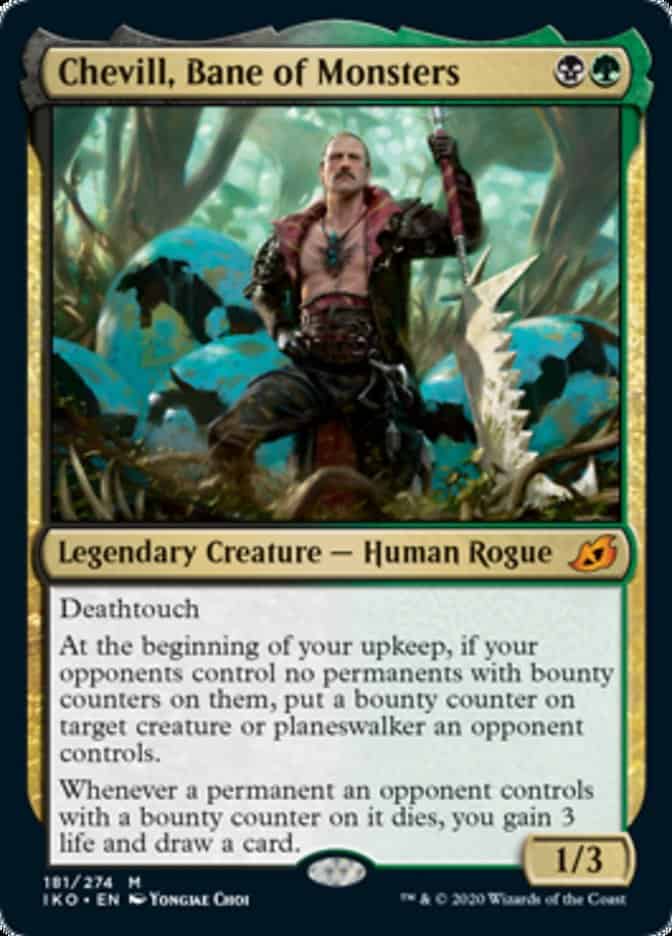 Jordan:
I don't think it's good enough, but it reads like a really powerful card for managing board stalls or when your opponents are chump blocking a lot as a way to break parity. Seemed interesting at first glance, has a pretty easy cost, is tutorable with Green Sun's Zenith, and can be saved with Karakas. Likely wishful thinking.
Conclusions:
All in all, I think Maverick might have a couple of new cards to test out from Ikoria, but nothing is going to make waves or change the deck in a truly meaningful way.
Beyond Fiend Artisan and Vivien, I'll be surprised to see any of these cards in Maverick lists beyond their initial test phases. However, I would love to be proved wrong. I don't think this is a bad thing though. I believe this is a great chance to really find the best build for Legacy Maverick with the current cards Magic has to offer.
It's going to be nice to stick to a 75 and work on getting Maverick back to a formidable threat in the Legacy metagame.
Are you really interested about a specific card? Let me know in the comments below. 🙂